A warning before you Twitter
By David Janowski
June 21, 2009

Finra's rules about content apply, so adviser tweeting is a compliance nightmare...

"...As part of their business, broker-dealers and their representatives cannot use Twitter because there is no technique for retaining it and supervising it," said Eric M. Rosenberg, an attorney and president of Litigation Proofing LLC, a consulting firm in Mamaroneck, N.Y...

Full Article
---
Eric Rosenberg Interviewed on KFNN's Business For Breakfast
September 19, 2006
Listen to the Interview
---
Eric Rosenberg Interviewed on Jim Blasingame's The Small Business Advocate
September 13, 2006
Listen to the Interview
---

OFFICE SPACE: CAREER COUCH; E-Mail in Haste, Panic at Leisure
By MATT VILLANO
September 3, 2006

"Many e-mail programs include an addressing function called AutoComplete that suggests recipients based on names in a user's address book. When the sender starts typing a name in the 'To' field, the software automatically fills in the first alphabetical match.

But Eric M. Rosenberg, president of LitigationProofing, a liability consulting firm in Mamaroneck, N.Y., says the software's suggestion is not always the sender's intended recipient.

'We tend to address e-mail with the same attention we give to driving while talking on the cellphone,' Mr. Rosenberg said. 'In many cases this can lead to disaster.'"

Full Article
---


New Online Course Helps Prevent Smoking-Gun E-Mails in the Workplace
April 24, 2006 — LitigationProofing, LLC and Interactive Employment Training Inc. (IET), a leader in online training about workplace issues, have released "Think Before You Send: A Practical Guide to E-Mail in the Workplace." As an alternative to LitigationProofing in-person training sessions, in about 35 minutes this online course helps employees avoid the e-mail miscues that may lead to financial losses, bruised reputations and employment terminations.

Full Press Release
---


You Got Nailed: E-Mail Probe Nets Messy Merrill a $2.5 M Fine
NY Post, March 14, 2006
Business Section

On March 13, 2006 the SEC announced that by consent it had entered a cease and desist order and fined Merrill Lynch $2.5 million for failing properly to archive and produce e-mails in timely manner when requested by the Commission. The NY Post's coverage of the SEC discipline of Merrill included a comment from LitigationProofing: "The fine and order were clear messages 'to Merrill and other firms to upgrade their archiving systems immediately,' said LitigationProofing's Eric Rosenberg, a former Merrill attorney and document-retention expert.'"

Full Article
---

Avoiding the Seven Deadly Sins of E-mail
By Sharon Gaudin
March 21, 2006

"We have a tendency when we're faced with great tension to get some relief by writing about it in a way that's less than serious," says Rosenberg, pointing to former Federal Emergency Management chief Michael Brown writing about how his clothes looked on TV during the Hurricane Katrina disaster this past year.

Full Article
---


Pleasantville hedge fund manager challenges new rules
By Jay Loomis and Allan Drury
February 5, 2006

"Under the new rules, passed by the SEC in 2004, hedge fund advisers must compile information about fund returns, investments and employee backgrounds, according to Eric Rosenberg, president of LitigationProofing LLC, a litigation consultant in Mamaroneck.

" 'Once you are registered, anything that you have saved, the SEC has the right to review it,' Rosenberg said. 'It is going to take people who have never had to deal with a SEC regulatory environment and force them to comply with a variety of rules and regulations.' "

Full Article
---

The Seven Deadly Sins of Electronic Communications
By Eric M. Rosenberg
January 2006

"Everywhere you look email is in the news, with many companies large and small getting into deep trouble because of it. And while email and other electronic communications like instant messaging are not inherently bad, their inappropriate use has tarnished many companies' images in the media and led to numerous legal problems that could easily have been avoided. Identifying potential pitfalls and taking concrete steps to prevent them can help employers save embarrassment, time and money."

Full Article
---

Eric Rosenberg Interviewed on CNN 1240 Radio
January 18, 2006
Listen to the Interview
---


Stomping Out Incendiary E-mail
By Eric M. Rosenberg
January 1, 2006

"In the struggle to build a workplace environment free from ethnic and sexual slurs, prejudice, and harassment, electronic communications present a growing challenge for human resource professionals.

We have all heard the horrors in major corporations concerning the circulation of racist or harassing e-mails such as "Ebonics 101" or "Reasons why beer is better than women."

For every one of the notorious cases of harassing e-mails publicized by the news media, HR professionals encounter many more daily examples in their own electronic workplace. Supervision of electronic communications to prevent these career-ending and liability-threatening behaviors raises a variety of interesting and subtle issues."

Full Article
---


Could Your E-Mail Policy Use Some Pointers?
December, 2005

"Most people exercise reasonable case in composing paper documents—such as using appropriate language and running the spell-check function. Somehow, though, we treat e-mail as if it were a series of phone conversations, where spelling doesn't count and messages are as impermanent as sound. Because e-mail lasts longer than paper documents, not to mention phone calls, it's crucial to put a detailed and specific e-mail policy in place to protect yourself and your employees."

Full Article
---

Stopping the Seven Deadly Sins of Business E-mail
By Eric M. Rosenberg
November 1, 2005

"Particularly with the increased emphasis in new laws such as Sarbanes-Oxley on accountability and problem elevation, doing nothing with respect to a problematic incoming e-mail is not a viable option. Moreover, it is usually inadvisable to solve this problem by forwarding the problematic e-mail to someone else within the company."

Full Article
---


Interview with Eric Rosenberg, LitgationProofing, LLC
By David Weiss
July 28, 2005

"It's amazing how people will write things that they just...don't have a concept of how it looks to their mother, to the newspapers. You know, probably one of the more famous ones came out of the Spitzer investigation of a brokerage firm where the analyst wrote, "This stock is a powder keg, given how aggressive we were on it earlier this year, and given the 'bad smell' comment that so many institutions are bringing up."

Full Transcript | Listen to the Interview
---

Juris E-prudence

Interview with Eric Rosenberg by Sue Bushell concerning e-mail retention and the Morgan Stanley litigations.

November 10, 2005

Full Article
---

Morgan Stanley case highlights e-mail perils
By Michael Christie
May 20, 2005

"The $1.45 billion judgement against Morgan Stanley for deceiving billionaire Ronald Perelman over a business deal has a lesson all companies should learn — keeping e-mails is now a must, experts say...

Circuit Court Judge Elizabeth Maass, frustrated at Morgan Stanley's repeated failure to provide Perelman's attorneys with e-mails, handed down a pretrial ruling that effectively found the bank had conspired to defraud Perelman when he sold Coleman Co. to appliance maker Sunbeam Corp. in 1998...

In a rare step, Maass switched the burden of proof to Morgan Stanley, and instructed the jury solely to decide whether Perelman had relied on Morgan Stanley...

But Eric Rosenberg, a former litigator with Merrill Lynch and now president of e-mail policy consultants LitigationProofing, said Maass was within her rights to rule as she did and could have even taken a more drastic step of issuing a default judgement and taking the verdict out of the jury's hands. "


---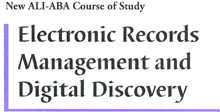 Electronic Records Management and Digital Discovery
Practical Considerations for Legal, Technical, and Operational Success
May 12-13, 2005
New ALI-ABA Course of Study featuring Eric Rosenberg

"...a comprehensive examination of what has been called 'electronic evidence,' the billions of communications that were once confined to paper but now exist as e-mails and other records kept in electronic form. This development is fast becoming one of the most challenging in the practice of law and can put you and your clients at potential risk if not properly addressed."

Full Brochure
---


Control of digital data roils attorneys
by Tresa Baldas
May 2, 2005

The e-mail arena

"And then there's e-mail, which is described by many lawyers as the hottest area of litigation. Companies and attorneys are at war over what a business must do to produce e-mail records, and who is going to pay for it.

" 'New rules are trying to address the burdens and . . . how far does a company have to go to produce these e-mail records,' said attorney Eric Rosenberg, an e-mail policy expert and owner of LitigationProofing, which counsels companies on electronic record-keeping.

"The new rules that Rosenberg is referring to are recent proposals by the Judicial Conference of the United States, the policy-making arm of the federal courts, which has proposed amendments to the federal rules of civil procedure that will clarify to what extent companies have to save and recover e-mails, as well as who is responsible for paying for it."

Full Article
---


The Seven Deadly Sins of Business E-mail
by Eric Rosenberg
April, 2005
for Illinois State Bar Association Young Lawyers Division Newsletter

"Since its inception, e-mail has been hailed justifiably as a productivity tool. But why should it also be productive for the prosecutor or plaintiff as a source of evidence? What can we do as lawyers to stop the creation and dissemination of troublesome electronic communications."

Full Article
---


For e-mail safety, set out some use rules and do a little snooping
January 2005

"For e-mail safety, the rule is simple: write every message with the same care and discipline used in writing a client letter or a memo to the file..."

Full Article
---


Teaching the dos and don'ts of e-mail
by Alex Philippidis
January 3, 2005

"'E-mail in court is more believable than any other kind of written communication. It is considered so frank and truthful,' Rosenberg said..."

Full Article
---


E-Document Creation and Retention:
Are Your Company's E-Mails Ready for Trial
November, 2005
A Breakfast Breifing Hosted by Baker & McKenzie LLP featuring Eric Rosenberg

"The 'paper trail' no longer consists of paper. More than 90 percent of all business documents are now created digitally, and computer forensic techniques allow recovery of evidence invisible to most computer users."

Full Brochure
---
inbrief Magazine


Litigators of the Stone Age
by Christine Boggis
July-August 2004, pages 16 -20

"The e-mail revolution has spawned such a wealth of extra information that it's no wonder UK litigators are burying their heads in the sand and hoping e-disclosure will just go away..."


"...Eric Rosenberg is the former legal counsel to Merrill Lynch and the founder of US-based LitigationProofing, a training consultancy that helps businesses put in place document retention programmes and teaches their staff to avoid getting themselves into trouble by writing 'silly things' in their e-mails. He notes that e-discovery can play an important role in government investigations, where the intent of the person being investigated is a crucial issue. 'The thing about e-mail is it's written by most people as if they were talking, which often enables (the courts) to treat it as a window to the operations of the mind,' he says..."

"...In the US, where e-discovery is far more prevalent than here, lawyers are advising clients — especially those who are particularly prone to litigation such as pharmaceutical companies — to have proper document retention procedures. Consultants like Eric Rosenberg train them not to be so informal in their e-mails that they get into trouble, and make sure they are prepared before a lawsuit is filed against them, rather than facing difficult mining exercises in the difficult context of litigation."