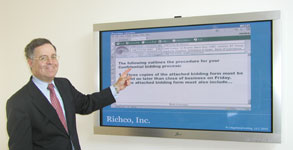 A LitigationProofing session can be delivered in person to groups of almost any size and can be completed in as little as 45 minutes. It makes a perfect component of any large on-site or off-site corporate meeting.
Rosenberg uses attention-grabbing and entertaining training techniques, including fast-moving snippets of video, props, nightmare e-mails, and audience demonstrations, all designed to work permanent changes in employee behavior.

Each presentation is tailored to your business, usually after consultation with your counsel and human resources professionals to review relevant issues.

The presentation is structured to allow active participation by a company representative if desired.

LitigationProofing is suitable for all employee levels. Rosenberg has a talent for explaining legal concepts in a simple, memorable, non-threatening fashion.